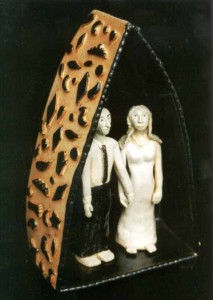 13th annual All-Florida Juried Exhibition at The Arts Center in St. Petersburg, Florida.
Show Dates: May 7, 2004 – June 25, 2004
Out of 450 entries, only 31 were selected for the show, by juror, William Zimmer, New York Times critic.
Rachel Fia won the John Eckert Memorial Award for Clay at this show. She was featured in a review by TBO.com, on the Eckerd College website, and also in the Tampa Tribune.
The Proverbial Couple is a ceramic sculpture created in 2004 and received the most attention of any of my pieces I've ever created.  A lot of it was timing, I was in the right art show with the right kind of art critic that got my work.  I never spoke to the man, but it was as if he was reading my mind because everything he said was spot on.  In fact, I didn't tell anyone what my art symbolized, and it's not my practice to as I feel like it may spoil whatever is going on in the viewer's mind.  This piece sold, and I only vaguely answered the buyer's email about what it was and meant.  I believe that the viewer's impression is sacred to him or her.
13th Annual All-Florida Juried Exhibition
of The Tampa Tribune
Published: May 5, 2004
ST. PETERSBURG – Mix Florida's art community with a New York Times art critic and you get a new perspective on the state's art scene.
That is what happened in May, when The Arts Center invited William Zimmer, contributing art critic for The New York Times, to be the juror for its 13th annual All-Florida Juried Exhibition. The show is on exhibit through June 25.
Zimmer, who culled 31 artworks from about 450 entries, said that he found the Florida works to be "more humane … and unashamed to be emotional in a direct-from-the- heart sort of way."
"There's a sense of humor here. You don't see humor in New York," he said at a luncheon in St. Petersburg.
He mentioned Rachel Fia's "Proverbial Couple" having a "sense of clear mystery."
According to Zimmer's observations, a work such as Fia's would fly in the face of the Big Apple's sensibility because it's carefully crafted, it's a ceramic piece at a time when ceramics are absent on the New York scene, and it's emotional.
"The well-made object is in jeopardy in New York. … It's fashionable to be impersonal, to comment on the world but not commit yourself."
Zimmer, who writes for the Times' suburban editions, also observed, "Photography and painting are merging. Photoshop [the computer program used to alter photographs] is just like another paintbrush."
Last year, Richard Vine, managing editor for the prestigious art magazine Art in America, was the show's juror. He underscored that Florida artists were part of the worldwide mainstream. "Globalism is no longer in debate," Vine said.
But Zimmer emphasized the differences between New York and Florida. "In Florida, I see things made for people to enjoy," Zimmer said.
We looked through the exhibition at The Arts Center to examine more closely "Proverbial Couple" by Fia, who is from St. Petersburg.  It consists of bride and groom figures in an enclosure similar to saints' roadside shrines in Latin America.
The "roof" of the shrine is covered with hearts, stars, circles, hands and feet … all symbols with magical or ritualistic significance.  Seen from the back, the shrine looks like the flat part of an iron, as if the iron's heat could be used to melt two people together.
Photography merges with colored pencils rather than painting in Randall Smith's "Rocket Launcher," in which the Winter Park artist covered a Polaroid image with densely applied strokes of color.
It's a perfect mix of high- tech and high touch: the clear, mechanical lines of the science project, the instantaneous image and a throbbing field of color worthy of an impressionist painting.
To see another deliberate collision of impersonal technology and handmade detail, check out Barbara W. Watler's rendition of a huge power plant. The kicker is that the Hollywood artist made "Florida Power and Light" entirely from colored thread.
In terms of sheer Florida exuberance, John Ballbach's "Sunflower" takes the prize.
Ballbach, an artist from Tampa, painted the flower on a canvas 4 feet high and 3 feet wide. At first, the flower looks like a huge burst of radiance that echoes the mushrooming popularity of the Sunshine State.
There is a wicked twist here, however. The plant's giant size makes it seem like a mutant species. Add in the enameled quality of Ballbach's turquoise skies, and it's easy to feel as if the alien flower has sucked up all the air in the state.
It's almost as if the painting is posing a key economic and environmental question: Is bigger really better?
Reporter Joanne Milani can be reached at (813) 259-7569.
"13TH ANNUAL ALL-FLORIDA JURIED EXHIBITION": May 7 through June 25; New York Times contributing critic William Zimmer was the judge for the exhibition showcasing 30 artists.  The Arts Center, 719 Central Ave., St. Petersburg; (727) 822-7872