John K. Eckert became Assistant Professor of Art in 1971 at Eckerd College in St. Petersburg, FL.  Each year in his memory the John Eckert Award is given to an outstanding regional voice in ceramics at the Arts Center of St. Petersburg. And fittingly, since 2001 this coveted award has been won by three Eckerd Visual Arts ceramics alumni: Ian Meares ('00), Rachel Fia Fuselier ('00), and Anne Holth ('03).
The award was for the ceramic sculpture The Proverbial Couple (click for more info or see below).
Rachel Fia receiving the John Eckert Award from New York Times Art Critic, William Zimmer at The Arts Center in May 2004.  Photo Credit: Diana Leavengood.  (Yes, that's a swing dance outfit that I'm in–I had a dance to be at right afterwards!)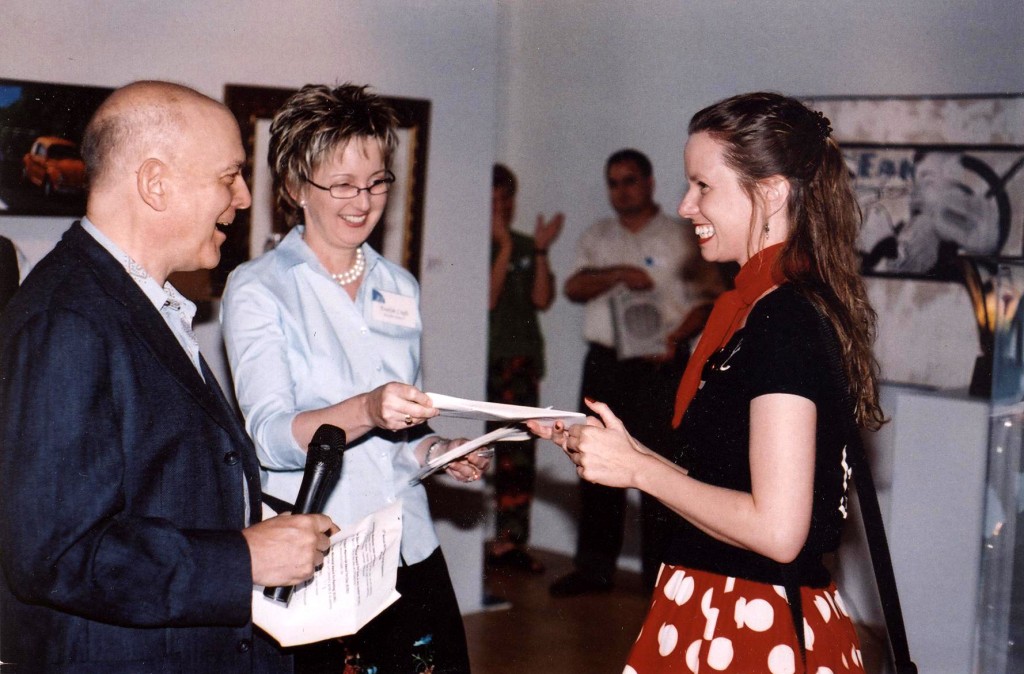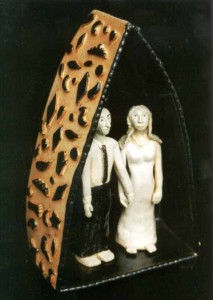 13th annual All-Florida Juried Exhibition at The Arts Center in St. Petersburg, Florida.
Show Dates: May 7, 2004 – June 25, 2004
Out of 450 entries, only 31 were selected for the show, by juror, William Zimmer, New York Times critic.
Rachel Fia won the John Eckert Memorial Award for Clay at this show. She was featured in a review by TBO.com, on the Eckerd College website, and also in the Tampa Tribune.
The Proverbial Couple is a ceramic sculpture created in 2004 and received the most attention of any of my pieces I've ever created.  A lot of it was timing, I was in the right art show with the right kind of art critic that got my work.  I never spoke to the man, but it was as if he was reading my mind because everything he said was spot on.  Read more…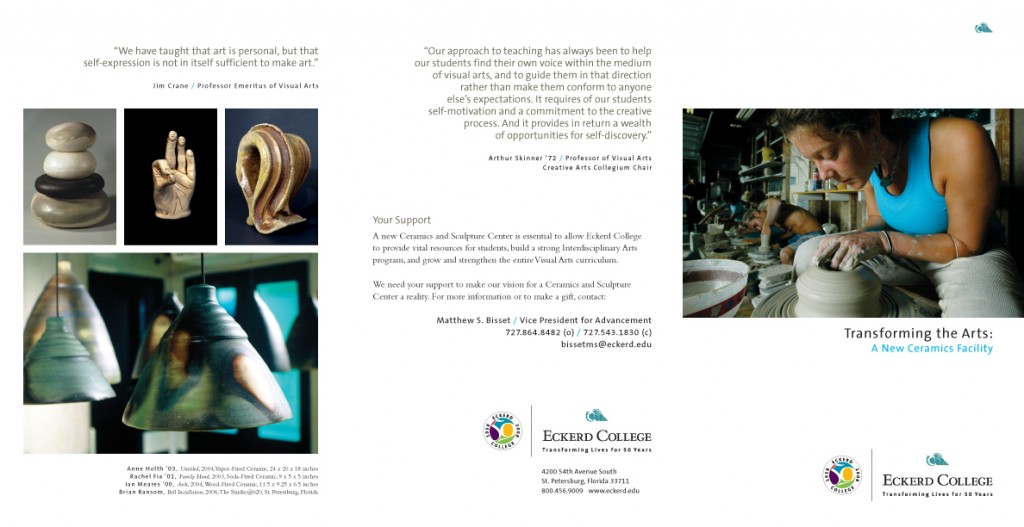 Eckerd College Creative Arts Collegium brochure featured Rachel Fia's ceramic sculpture, "Family Hand". (Soda Fired Ceramic with underglazes, 9″x5″x5", sold in the Eckerd College Alumni show.)
Rachel Fia is an Eckerd College Alumna from the class of 2000.  She double majored in Spanish Language and Visual Arts and received High Honors for her Senior Thesis Art Exhibit.
This brochure featured the Ceramic Arts Professor, Brian Ransom and his students that majored in Visual Arts.  Rachel Fia studied ceramics under Brian Ransom, and learned sculptural glazing and firing techniques that involved atmospheric firing to give the pieces a raw, natural look and feel.