I'm pleased to announce that I am a featured Artist on The Purple Merchant blog by author Nicolette who showcases Christian women and their work.
On this blog, you will hear from Christian woman artisans around the world who share their real life stories of how God led them to start their businesses , the joys and the challenges of creating their handmade work, and encouragement for those beginning and currently selling their products. Most importantly these stories ultimately will be ones that will leave you seeing God at the center of it all and the eternal value in creating handmade items.
Nicolette told my story about my beginnings into art, and some of the steps I took to get where I am now as an artist and small business owner.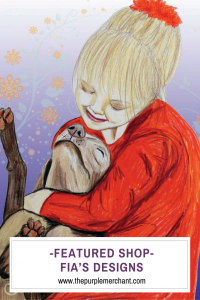 Meet Rachel Fia of Fia's Designs our featured shop of the day on our blog! Rachel has a unique talent to create inspirational art for your inner child. Take one look at her Etsy shop and you will soon discover an array of one of a kind pieces of work that instantly will have you captivated. From beautiful notecards to pendants, journals, gift sets and more Rachel offers a variety of options for purchasing her unique artwork. As a fan of her work you can imagine how excited I was when she said yes to being featured on our blog. Here is her story!